A group + a team spirit
=
wine made together!
Our group of winegrowers has always been united and enterprising. A closely-collaborativeteam works alongside us. It supports us with drive and motivation; we share the same values.The force of Clairmont stems from this alliance of skills and collaboration. A team spirit
resserrée travaille à nos côtés. Elle nous accompagne avec dynamisme, nous partageons les mêmes valeurs. La force de Clairmont tient dans cette alliance de compétences et de synergies.
Rencontre avec Frédéric Borja, président
et Carol Lombard, directrice et œnologue.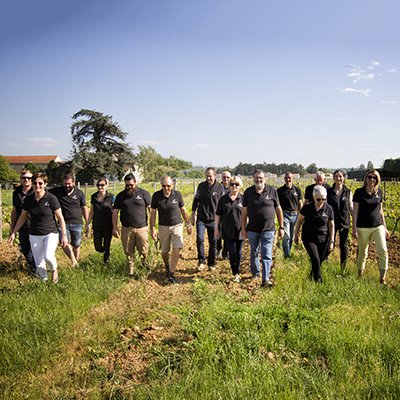 What is the distinctive feature of Clairmont?
Frédéric Borja : Indéniablement, c'est le fait que Clairmont soit une petite entreprise à taille humaine et à l'esprit familial. La force du petit nombre, c'est que chacun s'implique, écoute l'autre avec une solidarité forte entre tous. Dans chaque bouteille, on retrouve tous les vignerons, personne ne peut pantoufler en cachette !
Carol Lombard : Clairmont, it is the strength of a group, of work accomplished together for the same aim, while respecting the wishes and characteristics of each individual.
A good wine comes first of all from good grapes. How do you manage to ensure that each of the winegrowers, without exception, produces good grapes?
F.B. : Je vais répondre par une banalité mais nous sommes tous passionnés par notre métier, nous l'avons appris de nos parents qui, eux-mêmes, l'ont appris des leurs. Un jour, nous le transmettrons aussi à nos enfants. C'est peut-être ça, l'ADN de Clairmont, le goût du travail bien fait et un certain esprit de famille.
C. L. : Clairmont's winegrowers know that they hold in their hands the key to the quality of the wines produced each vintage. It is together, winegrowers and oenologists that we work throughout the seasons of the year to obtain the very best grapes.
What importance is given to the concept of plot selection at Clairmont?
F.B. : Au fil des années, elle a pris une place de plus en plus importante pour devenir le cœur de notre stratégie de développement. Chacune des parcelles, et il y en a beaucoup !, est dégustée avant les vendanges. C'est la condition sine qua non pour décider de la destination des raisins dans les futures cuvées. Voilà comment nous allons de plus en plus vers des cuvées de domaines qui offrent toute la singularité du travail des associés-vignerons et de la singularité de leur vignoble.
C. L. : Each plot is visited and the grapes are tasted several times by Clairmont's oenologists, in order to carry out made-to-measure work. The harvest date and destination of the grapes is therefore decided plot by plot. So, the grapes are gathered at their ideal stage of ripeness and at their best potential. Grapes from the finest plots are used to make very small-quantity plot selection wines and are given special care and attention during their production.
Your first organic wines came out in 2005. What motivated this approach?
F.B. : Notre vignoble est en culture biologique depuis des décennies. Là où les autres caves auraient mélangé leurs raisins aux autres, nous avons opté pour l'élaboration des cuvées de domaines bio. Nous avons ainsi enrichi notre gamme et affirmé encore plus notre engagement pour le respect de l'environnement.
C. L. : A third of our areas under vine have been cultivated using organic farming methods since 1997! Jean-Michel Borja was one of the first organic winegrowers of Crozes-Hermitage and Clairmont is really proud about this. In 2005, we expanded our range, by proposing the first wine from "Domaine des Clairmonts" Organic Winegrowing and then in 2016 Domaine de Clairmonts released two new wines: Zen white et Zen red. We have an increasing number of young winegrowers who want to pursue the "organic" adventure.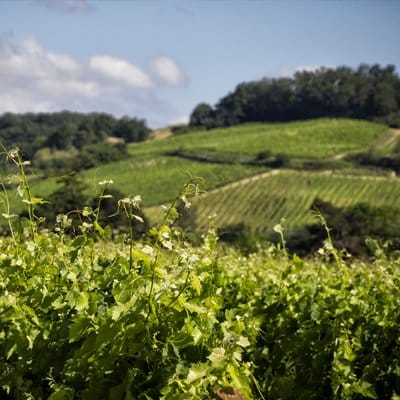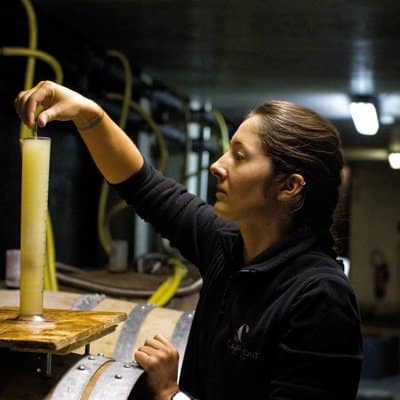 At Clairmont and nowhere else, winegrowers are able to take part in winemaking. Why is this?
F.B. : Encore une fois, la force et la richesse de notre petit groupe nous permet un tel luxe d'organisation. Participer à l'élaboration des vins, c'est une autre facette de notre métier qui nous permet de mesurer l'importance, la complexité et la complémentarité de chacune des étapes du vin. Et cela permet aussi à l'équipe de salariés de la cave de souffler un peu.
C. L. : Clairmont came into existence thanks to a desire for skill sharing. It is with this mindset that we continue to work today. Why should winegrowers' involvement stop at the door of the cellar? It is their business; they are the decision-makers, as well as the participants. Some winegrowers are trained in winemaking, either by educational studies or by prior experience. It is a real resource, for them and for us, to take part in making and selling the wines! It gives a real sense of accomplishment for each one of us! Since I have been responsible for winemaking at the cellar, Alexandre Defrance has worked alongside me; we have grown up together alongside the wines of Clairmont! As for Sundays, it is with pleasure and absolute confidence that I leave the keys to a team of winegrowers; they bestow as much care to the wines as to the grapes they watch transform before their eyes!
What importance do you give to technology during winemaking?
F.B. : La place qui doit être la sienne et pas davantage, la technologie est de pointe à Clairmont pour mettre toutes les chances de notre côté sans erreur possible. Mais il n'est pas question de faire des vins technologiques ou formatés à une mode quelconque… Le respect de la matière première, le raisin, reste primordial d'où notre rigueur à tous dans nos vignes.
C. L. : Technology must be a way of doing things better, not an end in itself. Temperature control has enabled all winemakers to guide winemaking, particularly to obtain the most aromatic delicacy. Above all, technology has relieved people of arduous work. Even though it is sometimes a great help to improve what nature has not been able to give us in certain vintages, I remain convinced that everything takes place in the vineyard thanks to magnificent terroirs and the winegrower's passionate touch. A fine wine is made with fine grapes!
Does the style of the wines reflect the winegrowers' taste?
F.B. : Il reflète en tout cas les terroirs que nous respectons. Je ne sais plus qui a dit que « le style, c'est l'homme » alors oui, nos vins portent l'empreinte de notre travail et j'espère qu'on y retrouve nos traditions, au sens le plus noble du terme.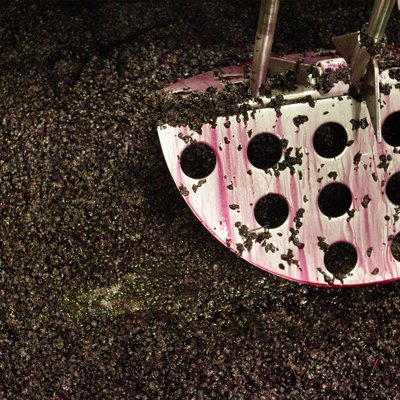 Team
8 salariés dynamiques
Managing director
Carol Lombard
Sales Manager
Michel Gallière
Packaging Manager
Jérémy Nodin
Packaging Assistant
Jean-Nicolas Kobayashi
Accounting & Sales Assistant
Guillaume Dufour
Head of Wine Tourism & Communication
Camille Flahaut
Cellarman
Jean-Pol Fairon
HQSE Engineer
Amandine Roux
Clairmont is families working together. What do you want to pass on to the young generation arriving now?
L. C. : Passion for our profession, the satisfaction of doing a job well, the pride of producing good wines, the pleasure of knowing that they are enjoyed by others. Continue together what we have always done together…
C. L. : When I arrived at Clairmont, I was 28 years old. So, I naturally received a great deal from the experience of the winegrowers and employees. Wine is a world where we exchange and pass on, it is the core of the profession. Winegrowers know their terroir well, the adjustment of grape varieties to their climate, to their soils. The most experienced carry within them the memory of a company, the decisions that were taken , the mistakes that were made, but the successes accomplished too and all of this is a great resource both for the youngest members and for other employees. They all have certain skills for which they were recruited into the team; it is important that they share these with winegrowers who do not necessarily possess the same abilities. In this way, collaboration of skills encourages the relevance of decision-making. Passing down is a way of building more rapidly and more strongly.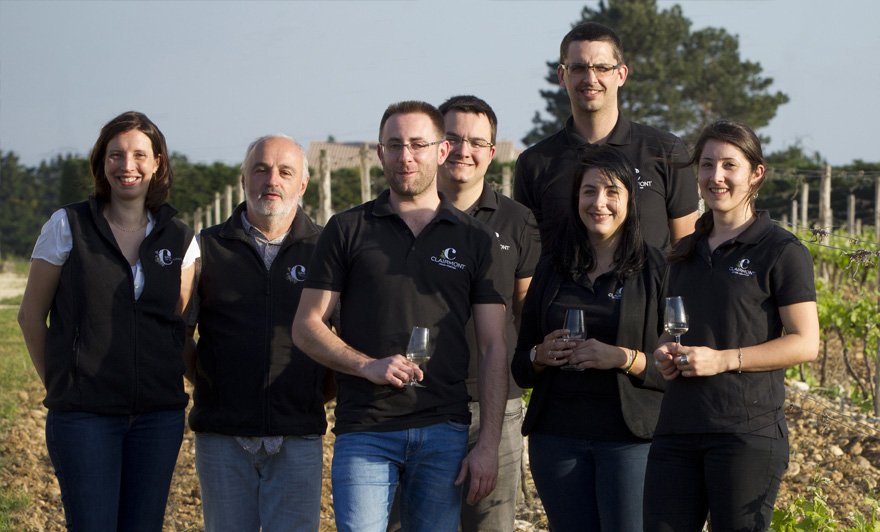 the vault
Horaires :
Monday to Friday: 9 a.m. to 12 p.m. / 2 p.m. to 6 p.m.
Saturday: 9 a.m.-12 p.m. / 2 p.m.-7 p.m.
Closed on Sundays and holidays
Address
755 route des vignes
26600 Beaumont-Monteux – France
Nous ne bénéficions pas de transports en commun à proximité, pensez à covoiturer ou utiliser les mobilités douces.
Itinéraire